SB Value Portfolio Transparency ToolsTM
If you buy bonds for your institution…our SBV Portfolio Transparency Tools™ might change the way you do business.
For years, financial institutions have been paying high, hidden commission mark-ups for sub-par investment performance. SB Value uses FinTech and Traditional tools to analyze your fixed income trade flow. This complimentary analysis serves as the basis for potential invitation to the SB Value Transparency Platform – a robust low-cost fixed income platform your institution accesses for a flat-fee.
| Traditional Portfolio Securities Transactions | SB Value Transparency Platform TM |
| --- | --- |
| Hidden Mark-Ups | No Mark-Ups |
| Incentive Driven Compensation | No Incentive Compensation |
| Single Source | Multi-Source |
| 100% Human | Human Plus FinTech |
How We Do It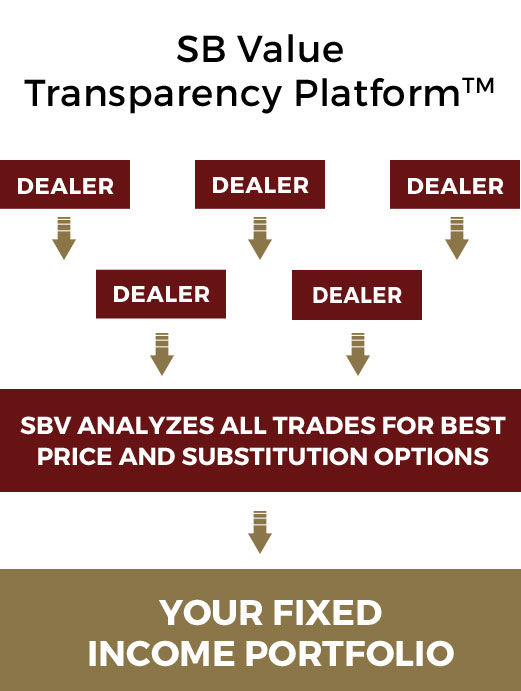 SB Value's Free Portfolio Transparency Analysis Helps You Eliminate Onerous Transaction Costs In Your Portfolio
Is The SB Value Transparency PlatformTM Right For Your Institution?
3 Simple Steps to Price Discovery in Your Portfolio:
01
Execute Non-Disclosure Agreement

02
Exchange of Securities Transaction Data and Analysis

03
Receive Free Portfolio Transaction Cost Analysis, Including GAAP, ROE and ROA Ramifications
"Lack of portfolio transparency and associated hidden bond mark-ups reduce community financial institution profitability and capital levels. In this environment of low interest rates and margin compression, these hidden costs are more onerous than ever, and warrant further scrutiny."
– Dr. Ed Seifried
"What Do Bond Mark-Ups REALLY Cost Community Financial Institutions?"
White Paper – March 2020